If you are coming to the Basque Country you already must know about it's gastronomy. Meat, fish, seafood, vegetables, potatoes, eggs,… all kind of real foods combinations you can imagine, we nail it. The Basque Country is famous because of it's "bakalao al pil-pil", "bakalao a la vizcaina", ""txuleton a la brasa con patatas", "tortilla de bakalao", "tortilla de patatas"…, and of course you must know about the special and unique way we have to eat in bars: the Pintxos.
The pintxos are always mistaken by the Tapas but IT IS NOT the same. It's true that the similitudes are related and that's why it's complicated to difference them, but once you know, you know! So, what is the difference between a tapa and a pintxo?
For years this question has been a reason of debate in the culinary world, and even the RAE (The Real Spanish Academy – Real Academia Española), doesn't let the difference between them really clear either:
Tapa: "Small portion of any food that is served as an appetizer/side of a drink"
Pintxo: "Food portion taken as a snack, that sometimes is pierced by a toothpick"
So therefore, the difference, it's also be to the interlocutor's interpretation but we can also affirm that there're differences between them, and that the only similarity is they have is that is a small food portion. Also, tapas is what is usually served in all Spain when you order a drink, but the only place you can eat by pintxos is in the North!
Among the differences between tapas and pintxos, the main one is that the tapa is always served on the plate, it is usually a portion of food smaller than a main course but it usually has its equivalent in the rations and main courses of the menu and you have to use silverware to eat it. Instead, the pintxo is usually served on a piece of bread or other edible base, has few ingredients that most of the subjects with a toothpick and eat one or two bites without the need for silverware.
NOW, knowing the differences between them… sure you wanna know where to eat the best PINTXOS of Bilbao. If you want to check out where to eat the best pintxos of tortilla click here.
El Globo
Diputación, 8, 48008 Bilbao, España
944 15 42 21
By popular opinion the best one is "pintxo de txangurro". It deserves a try!
La Viña Del Ensanche
Calle Diputación, 10, 48008 Bilbao
944 155 615
Here the best pintxos you can take by popular opinión again are "pintxo de jamón" and "carrilleras".
It's not a bar but a place. It's located in the old part of the city and it's famous because of it's bars, it holds the most typical places to go to eat "gildas", drink a "zurito" and spend a sunny sunday there.
From the bar: La olla
In the Plaza Nueva you will find the most spectacular in miniature design kitchen.
Pikata Urban Burguer
Hambur-pintxos for 1€, the only thing you need to know. For the rest, normal hamburgers in a small typical bar of Bilbao from 6-8€ and also they have a vegan hamburger.
Tirauki
Goienkale, 12, 48005 Bilbo, Bizkaia, España
944 07 04 88
Vegan place with delicious pintxos with good aesthetic and good ambient in one of the most famous streets and (almost) always crowded of people. Perfect for Thursdays.
 Salon de Juegos
C/ General Concha, nº 1. 48008 Bilbao
944 101 971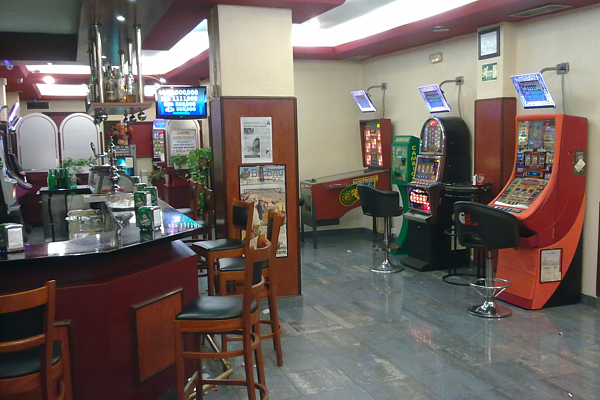 It isn't a bar but a game center where they serve one of the most delicious pintxos of Bilbao.
Ledesma Musikariaren Kalea, 14, 48001 Bilbo, Bizkaia, España
944 24 85 77
Also this street is full of bars. Waiting you to try their pintxos while you are drinking beer of wine.
Calle Juan Ajuriaguerra Kalea, 13, 48009 Bilbo, Bizkaia, España
944 23 00 89
Great variety of pintxos with vegan and vegetarian options.
Oriotarra
Blas de Otero Kalea, 30, 48014 Bilbo, Bizkaia, España
846 66 12 90
Cafeteria Swansea
Rodríguez Arias Kalea, 70, 48013 Bilbo, Bizkaia, España
944 27 74 12
Known for the tortillas. One of the best tortilla pintxos of Bilbao. They serve more kind of pintxos and they also are worth to give it a try.
Now that you know all the best places and most typical places to eat pintxos, you can't miss to do a gastronomic tour around Bilbao, not only trying the places we have tell, but also other ones.
If you go to these bars and you have try the pintxos let us in the comments what you think about, and if you try new places let us know you opinión about them and we could make another list!
ON EGIN!