Collaboration between ESN Bilbao, student Erasmus association, and SwiftFlats, rooms for exchange students
From SwiftFlats, we want the youngest to enjoy their  experience in Bilbao and for that reason, we inform you that … We have reached a collaboration with the student association ESN Bilbao!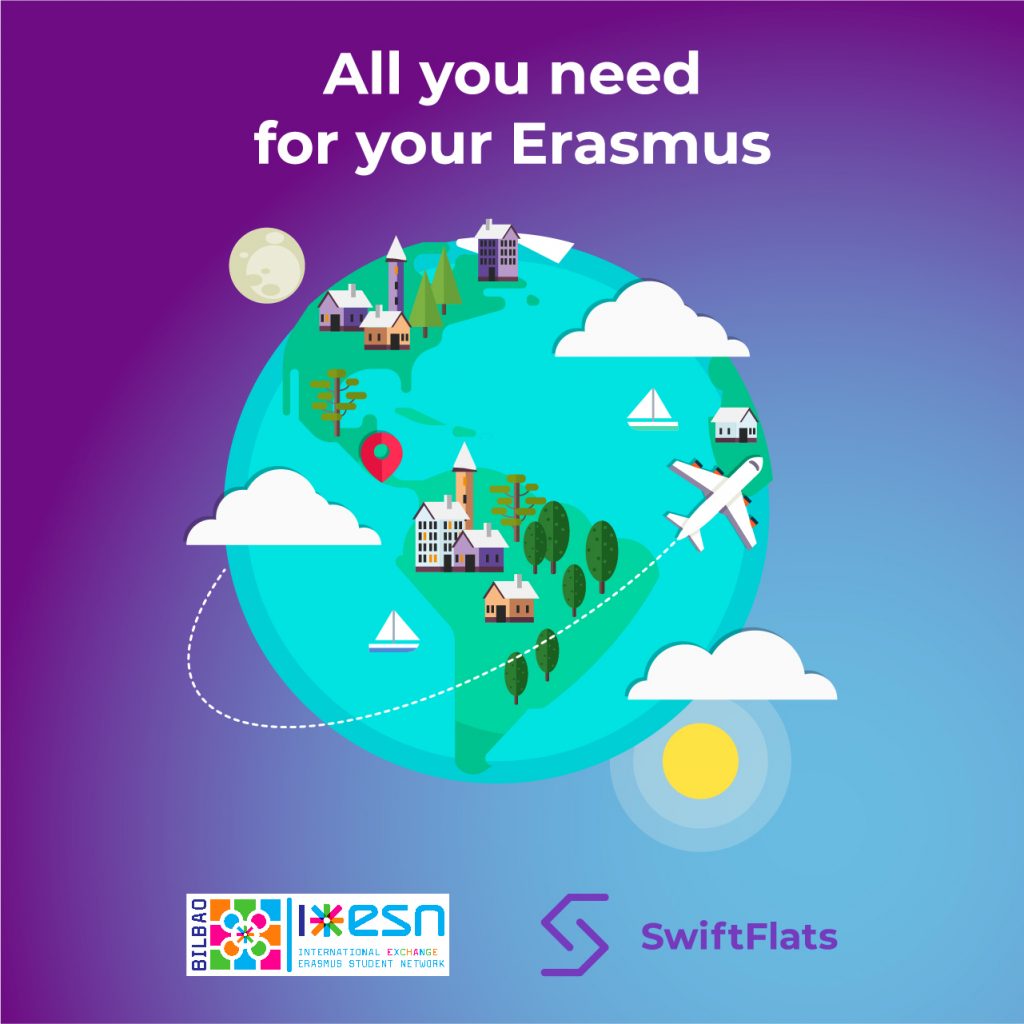 Erasmus Student Network Bilbao is one of the most prestigious student associations in Europe. From its diverse locations, it has been supporting the international mobility of students since 1990. ESN is present in more than 430 educational institutions in 36 different countries. The association has more than 13,500 active members. The ESN team has the support of the so-called "buddies", personnel who dedicate their activity to accompany the international students people who arrive to their destination country: the association involves 29,000 young people who offer their help to more than 180,000 students each year.
Taking the decision to leave their house is not easy and, therefore, ESN Bilbao wants to be the support center to which newcomers can go. During the year, the association organizes multiple events and meetings in Bilbao so that young people come together, share time together, receive recommendations of places to visit or tell their experiences to newcomers. Through these events, the association promotes that young people feel accompanied when it comes to undertake their new adventure in the city of Biscay.
ESN Bilbao carries out multiple and diverse activities, through which they promote the accompaniment and integration of international young people into the daily life of the city. The association organizes daily activities around the city: sports activities, parties in discotheques for students, barbecues or tours to know every corner of the city.
ESN with headquarters in the capital offers endless excursions to introduce young newcomers to the wonderful landscapes awaiting the Biscayan coast: the bay of Urdaibai, fishing villages such as Bermeo or Elantxobe, or the islet of San Juan de Gaztelugatxe , world known for being Dragonstone in the famous series "Game of Thrones".
In addition, the most travelers will have the possibility of nourishing themselves of the Spanish culture since ESN Bilbao also organizes periodically multiple trips by its cities and towns: Madrid, Salamanca, Barcelona, ​​Seville, etc. These trips have cultural, sports or other previously organized activities that help young people to maximize their visit and enjoy it with more students like them.
The diversity of activities offered by ESN Bilbao promotes that all young people who come to the Biscayan capital find people with their same tastes, share hobbies or have someone to turn to if they need something. There are many young people who have trusted ESN as a support center during their stay abroad.
You can acquire through our website the different activity packs organized by ESN Bilbao at an exclusive price for SwiftFlats users.
Do not miss the wonderful team of ESN Bilbao and make your experience in Bilbao unforgettable!